Interview // Author D.J. Williams
---
---
As a world traveler, do you find this to be a great source of ideas for your writing?
Growing up in Hong Kong, and traveling the world over the years, has definitely influenced my stories and characters. I've walked the forgotten streets and alleys, trekked through the jungles, and sat with incredible people who have inspired my novels. But I will say, there are places that I'm curious about that I've never been, so I do a ton of research about those locations so they feel authentic in the stories.
Could you see yourself writing a book or series outside of the mystery and suspense genre? If so, what other genres could you see yourself writing?
Years ago I was a ghostwriter for another author and wrote two romance/family dramas. I think that's when I realized I was wired for thrillers, mystery, and suspense. As a storyteller, you're drawn to worlds that spark your creativity and while I might read other genres for pleasure, I'm always pulled back to stories that dive into espionage and vigilante justice, with twists and turns that are action-packed.
What was your most satisfying moment while writing The Auctioneer?
About halfway through the first draft, I realized the characters and story were bigger than just one book. Up until that point, I was experimenting and searching for what made each character unique and what parts of the story were going to be the big reveals. I began to think beyond the last page of The Auctioneer, and now I'm in the process of writing the next one in the series. And, I'd have to say one other moment was when I received a stellar review from Kirkus Reviews which echoed what I believed, that readers would be hoping for a sequel.
Have you found that The Auctioneer has stayed along your chosen path?
With each book, I'm becoming a better storyteller. From the first two novels, which were quite different from each other, to The Auctioneer it's been a journey of discovering my voice and creating worlds and characters that grip readers until the final page. I'm still on the path but feel that I'm hitting my stride as I reach deeper with each book.
---
---
Do you have a favorite character from your books? Why this specific character?
That's like choosing your favorite child. I'd have to say they're all my favorites for different reasons. Some bring humor in the midst of despair, others are a reflection of the world around us, and there are those who struggle to choose between black and white or the gray of life. So, each character faces moments where their choices define who they are, and those choices oftentimes are opposed to other characters in the books.
Can you tell us which of your books is your favorite?
Right now, I'd have to say my favorite is The Auctioneer. It was a big breakthrough for me as a storyteller and writer. The response so far has been encouraging, and the opportunities to expand on the world are beginning to take shape. But, I reserve the right to change my mind once I've written the next one! I guess that's how it goes — you hope that the next one will be your favorite.
If you could only recommend one of your books to readers, which one would it be and why?
I'd say The Auctioneer, mainly because that's the series that will be moving forward. While I loved writing The Disillusioned and Waking Lazarus, which are edge-of-your-seat thrillers in their own right, what I discovered with The Auctioneer were characters I believe can go the distance much like Jason Bourne, James Bond, Jack Reacher, and Harry Bosch.
If you only had one sentence to capture a new reader for your books, what would it be?
"After twenty-four years of unconditional love, followed by two weeks of disbelief, I stood beside a fresh mound of dirt wondering if I'd been a good son." — the first words from Chase Hardeman, my leading character in The Auctioneer.
What author has inspired you the most in your writing?
More than one has inspired me — Michael Connelly, John Grisham, Lee Child, James Patterson, David Baldacci, Brad Meltzer, and Daniel Silva.
What one book do you recommend that every mystery and suspense genre lover read (not including your books)?
The Other Woman by Daniel Silva.
Of course, we have to know, what is in-store next – books, events, etc.?
I'm in the process of writing the next book in the Chase Hardeman series, and will hopefully be finished by the end of the year. I've also been invited to be on one of the "Hooray for Hollywood" panels at The California Crime Writers Conference in Culver City, CA, on June 8th. While I was writing The Auctioneer I remember seeing the conference online and thinking it would be great to attend to learn from incredible storytellers and industry experts. I never would've imagined instead of attending the conference, I'd be invited to be on a panel at the conference! If you're a writer in LA and want more info about the conference, check it out here: https://ccwconference.org
---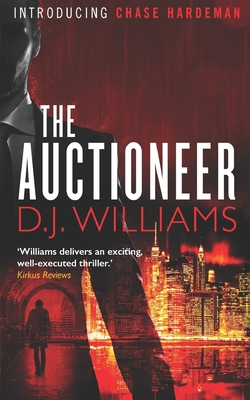 ---
---
---
---
Enter to win an exclusive giveaway from Oscar winner endorsed author, D.J. Williams. One lucky winner will receive an autographed copy of The Auctioneer, as well as a special invite for a Skype conversation with D.J. to talk about not only his latest international thriller but the world of storytelling from books to television to film.
---
a Rafflecopter giveaway
---
---
With the DNA of a world traveler, D.J. Williams was born and raised in Hong Kong, has ventured into the jungles of the Amazon, the bush of Africa, and the slums of the Far East. His global travels have engrossed him in a myriad of cultures and provided him with a unique perspective that has fueled his creativity over the course of a twenty-year career in both the entertainment industry and nonprofit sector.
Website | Goodreads | Twitter | Facebook
---
Thank you, D.J., for chatting with us for our latest author interview and congratulations on your latest release!
---
---